Podcast: Play in new window | Download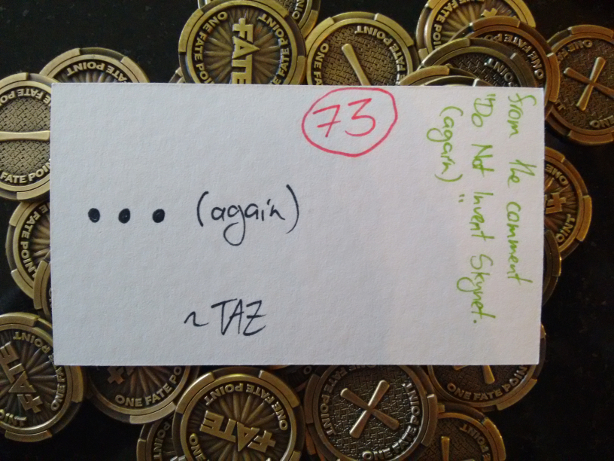 Red tape controls the Bureau for Lost Time Retrieval, but unrecorded anomalies are the operative's bread and butter.
The Alien Invasion can only be thwarted by a Coalition of the Mad!  Now all they have to do is agree on what colour to make the deathrays.
The Planner proposes a scheme and the Naysayer "helpfully" reminds them how it didn't go so well last time.  Is thwarted just another word for nothing left to lose?
Also;
"There's clearly no one source of truth in this scenario, because everyone has their own  views about things."
"Everyone is a filthy liar."
"Yeah".
"Also, that could totally be the title."
"Everyone Is A Flithy Liar."
RPG – Tokyo Brain Pop  (formerly Panty Explosion Perfect)
Taz's Time Travel RPG – Rewind
National Game design Month AKA NaGaDeMon
TV – The X-Files
Gantt Charts – Warning: Project Management
The Laundry Files by Charles Stross
RPG – Over the Edge
TV – Sapphire and Steel
RPG – The Strange
Good Artists Copy; Great Artists Steal
RPG – FATE Worlds Vol One: Worlds On Fire
TV – Rescue Me, House M.D., Scrubs, and The Wire
Anime – Gakkougurashi!
Terms – Vignetting and Sepia Tone
Anime – The Melancholy of Haruhi Suzumiya
RPG – Star Wars: Edge of the Empire
Film – Momento (2000)
RPG – InSpectres
Film – Rashomom (1950)
RPG – The Extraordinary Adventures of Baron Munchausen
RPG – Microscope
RPG – Wushu Open
Webcomics – A Miracle of Science and Narbonic
RPG – Project Ninja Panda Taco
Music(?) Video – "Panda, panda, panda" by Deerhoof