Podcast: Play in new window | Download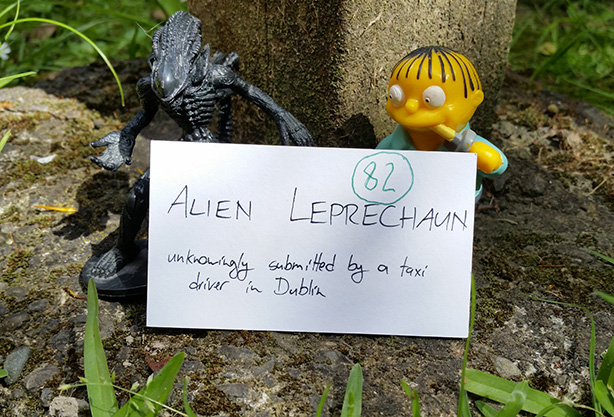 And It Was Aliens All Along – Is that really a creature of faerie you've come across? Does the Leprechaun actually need your help to get to their pot of gold at the end of the rainbow? Or did you just help a crashed alien explorer return to their spacecraft?
The Grandest Central Station – Workaday life in a 'train' station where the 08:15 could be coming in from absolutely anywhere, and the Starlight Express might not just be a fanciful name.
The Bedsitting Room, by Spike Milligan and John Antrobus
Hobbiton (filming location)
Lord of the Rings filming locations
The Lord of the Rings Location Guidebook
Loncon 3 (happened in London in 2014, and the fact that they did not go with any form of Pirate theme, in order to capitalise upon "Lon Con Silver", is considered to be a grevious error by Gulo T.)
Shamrokon (happened in Dublin the weekend after Lon Con Silver Loncon 3)
Expedition to the Barrier Peaks (warning – spoilers)
Dragon (magazine)
SnarfQuest, by Larry Elmore
(I'm throwing is a link here to Larry Elmore's web-store, because there's a collected & remastered anniversary edition of SnarfQuest available, or at least listed ~ T. Jones)
(OhMyGodOhMyGodOhMy … Crap, I'm travelling, and a hardback book is really inconvenient ~ Craig)
Tales from the Floating Vagabond

Poutine Live Play, by the Jank Cast
Poutine – Current playtest version
Mashed (kickstarter for preordering)
The Last Airbender (movie)
Alien (movie)
Leprechaun (series)
Street Wars (movie)
(Gulo T. & I saw this at a movie marathon. It's … not good ~ Craig)
Spaced Invaders (movie)
Morons From Outer Space (movie)
Invasion of the Body Snatchers (1978)
Darby O'Gill and the Little People
The War of the Worlds, by H. G. Wells
The World's End (movie)
Jeff Wayne's Musical Version of The War of the Worlds