Podcast: Play in new window | Download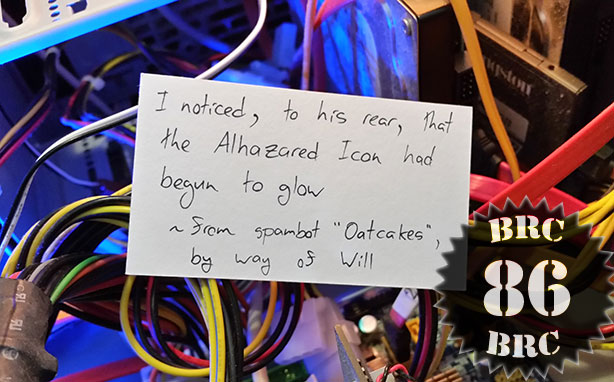 The trouble with having a dedicated team who go spelunking through the dark paths of the internet in search of That Which Must Not Be Downloaded is that you've got to deal with what it does to them: How fine is the line between Burned-Out and Hollowed-Out?
What's it like to be back at the Ops Centre as the strike team hits a Mythos Infestation, trying to keep the strike team alive as it all goes to hell, or worse, around them?
You're the second-best, and the very best spare no effort to make sure you never forget it.
Why might a time-traveller need a 74-gun ship of the line? And how long does it take to sail home when you're not really sure how the time drive works?
Abd Alhazred has been dead for centuries, but the revelations of blasphemous events just keep on coming, through the medium of an unholy relic; When the Icon glows, it's time for Alhazred's Angels to leap into action.
Battling Mythos threats would be easier if your guide wasn't insane, out of touch, and overly fond of metaphor and hyperbole.
Happy Valley, Whakapapa Skifield, Mt. Ruapehu, New Zealand
Hudson Hawk
Batman ('66 TV Series)
Lucifer (TV Show)
The Laundry Files, by Charles Stross
Global Frequency, by Warren Ellis (Comic)
Night Witches (RPG)
The Sin Eater (Movie)
Delta Green (RPG)
Aliens (Movie)
Apocalypse World (RPG)
Fight Fire, in Fate Worlds Volume One: Worlds on Fire (RPG)
Sunday-Skypers "Uncharted Worlds" episodes (Podcast)
Uncharted Worlds (RPG)
The Gutter Skypes (Podcast)
Questlandia (RPG)
Inspectres (RPG)
Skyline (Movie)
The Boys, by Garth Ennis and Darick Robertson (Comic)
Mystery Men (Movie)
Rorschach (Character in Watchmen)
Timewatch (RPG)
DC's Legends of Tomorrow (TV)
Doctor Who (TV)
Sliders (TV)
Quantum Leap (TV)
Flying Dutch, by Tom Holt
Back to the Future (Movie)
Avon (Character in Blake's 7)
Charlie's Angels (TV)
The Cautionary Tale of Numero Cinco (TV)
Scooby Doo (TV)
Toon (RPG)
Stranger Things (TV)
National Treasure (Movie)
The Da Vinci Code (Movie)